So, in honor of National Poetry Month, I decided I'd feature some poems in April! (Poems are mad schmexy and should be loved and admired just as much as books are.) I will be the first to admit I am not a very good 'lover-of-poems.' In fact, I don't read them as much as I should, but this is an attempt to reacquaint myself with poetry.
The first poem I am featuring is one of my favorites, 'Invictus.' The name might be familiar to you, as it's title, and the poem itself was featured in a movie a few years back staring Morgan Freeman and Matt Damon. There was rugby in that movie, AND a cool poem. Win-win!

'Invictus'
by William Ernest Henley

OUT of the night that covers me,
Black as the Pit from pole to pole,
I thank whatever gods may be
For my unconquerable soul.

In the fell clutch of circumstance 5
I have not winced nor cried aloud.
Under the bludgeonings of chance
My head is bloody, but unbowed.

Beyond this place of wrath and tears
Looms but the Horror of the shade, 10
And yet the menace of the years
Finds, and shall find, me unafraid.

It matters not how strait the gate,
How charged with punishments the scroll,
I am the master of my fate: 15
I am the captain of my soul.
I love this poem for many reasons. This poem is very uplifting, written in the 19th century by William Ernest Henley, a British poet. It really manages to resonate with the reader and reach them in a way that some poems fall short in doing. It's extremely enjoyable, and wha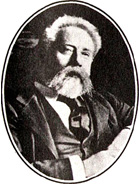 t more is there to review about this poem? I think the best review comes from allowing you, my few but faithful blog followers, to read it yourself. For more biographical information on the poet himself, Mr. Henley, here's a link to a biography that will give you a little more insight! (I myself found him to be a rather interesting character.)
Click here to check him out!
Thanks a bunch for checking out my contribution to National Poetry Month! April is sure to be lots of fun. Don't forget, I'm always looking forward to your own reviews of poetry! Just choose a poem, feature it on your blog, and link back to mine! Post a link to your post in the comment section so I can see!
What say you...?