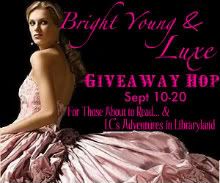 My first giveaway!
I'm so excited to be participating in my first giveaway, and by one of my favorite authors as well. Miss Anna Godbersen, new York Times Bestseller of 'The Luxe' series and 'Bright Young Things' is releasing a new book this month. The lovely bloggers at
For Those About to Read
and
LCs Adventures in Libraryland
are holding a sexy giveaway hop on their blogs to commemorate this awesome, bookish event!
So,
of course
, I had to hop on board! I love these books, and this is the perfect occasion for my very first giveaway.
What's up for grabs? A copy of any one book written and published by Anna so far, excluding the book coming out later in the month.
From The Luxe series...
The Luxe
Rumors
Envy
Splendor
And
Bright Young Things
from her most recent series.
How to enter...
You must be 13 years or older to enter.

Open to any and all countries that

The Book Depository

ships to. (Click the link to check the countries they ship to before entering, please!)

Winners will be notified via their e-mail.

Failure to respond back to my e-mail within 48 hours will result in you losing your win. I will then choose another person from the list.

I will choose a winner via random.org.

Contest closes September 20, 2011. At midnight, United States East Coast time, I will stop accepting entries.

You do not have to follow me, however I would HIGHLY appreciate it if you did! I am only allowing non-followers to join this giveaway because I know how much of a pain it is to want to enter a contest only to have to join several dozen blogs to do so. So think of this as a favor, but remember I would love to have you as a follower and it's really a pain to not order you to follow me first.
To receive extra points either follow me and give me the name you follow me with and/or tweet about the giveaway with the link to your direct tweet.
Just fill out this form!
Good luck to everybody who enters this and the other giveaways, which can be accessed by clicking on the button up top. If you want to chime in in any way, shape, or form, you may comment below.
Happy hopping!