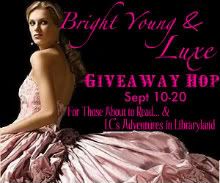 Hello everyone!
What a crazy week! I want to apologize for the delay in this post. I started a new job this week, school started to get a bit overwhelming, and somewhere I managed to sign myself up for Honors, which translates into more work. Yay for stress!
But I have not forgotten about my giveaway!
So, in case you weren't aware, this was my first giveaway, and it was a HUGE success! Even though I allowed for non-followers to join the giveaway I was still able to more than double my number of followers in less than a month.
To m followers, I would love to send a special thank you! I'm sorry I can't thank each one of you individually, I really wish I could have. But when every day I was gaining more and more followers, it was getting a little harder to keep track. So thank you lovely followers, new and old, for your support!
So yes, this was my first giveaway. I want to thank my giveaway blog hosts for letting me hop on board... haha... I said hop... My followers, thank you again, of course. Also, everyone who joined in the giveaway or tweeted. And furthermore, thank you to those who commented or left comments in the form of pure awesome. They made my day!
Now, without further ado, I give you our winner!
-Drum Roll-
YAY! Darlene, you're about to receive and e-mail from yours truly with a big congratulations and a few other tid-bits. I hope to hear from you in 48 hours time so that we can get your book sent!
As for the rest of you lovely people, have no fear! I have had so much fun holding this giveaway, I'm preparing for another one. Stay tuned for more information!
I will end by saying this was much fun, and thank you everyone who participated! Questions suggestions, and comments are well appreciated!
Until next time!